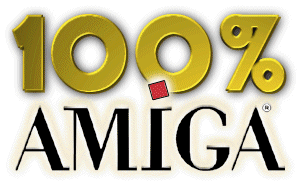 A 100% PURE Amiga Magazine.
SEE IT! HEAR IT! EXPERIENCE IT!
"This is Amiga multimedia as it should be!"
"Everything you want from a magazine, and so much more!"
We know as a Amiga owner, that you are interested in the LATEST NEWS regarding our GREAT machine.
We know as an Amiga owner, you don't just want to read about the latest game's Utilities and Demo's YOU want to TRY them too!
But we also know as an Amiga owner you want VALUE for MONEY, NEW PRODUCTS and FREE software.
Well that's why, we have developed
100%AMIGA - The best monthly CD MAGAZINE
just for YOU, the Amiga owner.
SEE IT! - HEAR IT! - EXPERIENCE IT!
This great NEWLY STYLED Magazine, is a fully interactive Amiga CD developed by Amiga owners for Amiga owners.
100%AMIGA is a monthly in depth magazine of the Amiga scene, it has the LATEST NEWS and the LATEST REVIEWS.
But 100%AMIGA is more, each month we bring you the latest Amiga DEMOS, PATCHES, UPDATES and UTILITIES.
SEE IT! - HEAR IT! - EXPERIENCE IT!
Each month 100%AMIGA contains TUTORIALS, GUIDES, and TECHNICAL information for the BEGINNER and the EXPERIENCED user alike.
Each and every month 100%AMIGA contains FREE software, a number of useful utilities and a few games, and every month we'll include at least one FULL software title.
The fully INTERACTIVE interface could not be any EASIER to use, it gives you FINGERTIP control of the CD, and makes for a TRUE MULTIMEDIA experience.
From time to time there are exclusive subscriber COMPETITIONS to give you the chance to win some of the latest AMIGA software titles.
Most months you will find SPECIAL OFFERS and VOUCHERS that will more than make up for the small cost of the 100%AMIGA CD Magazine.
SEE IT! - HEAR IT! - EXPERIENCE IT!
So how much? We hear you ask!
The 100%AMIGA magazine is just £4.00* per month!
So remember for this SMALL AMOUNT monthly you get a CD with a fully interactive interface, news reviews and special offers, competitions, tutorials guides, demos, patches, updates and much more…….
Pay by Credit Card, Cheque or Direct Debit. UK and Overseas orders welcome.
"This is what an Amiga Magazine should be"
SEE IT! - HEAR IT! - EXPERIENCE IT!
Take a look now at some of the screenshots
If you are still not sure that this is for you then why not purchase a single issue.
UK
1 Trial Issue: £5
6 months: £30
12 months: £48
OVERSEAS
1 Trial Issue: £6
6 months: £36
12 months: £60
ALL ABOVE PRICES INCLUDE SHIPPING CHARGES -NO EXTRA TO PAY!
*Based on a UK 12 Months Subscription.